Sensorineural Hearing Loss in Diabetes Mellitus
Keywords:
Sensorineural hearing loss, diabetes mellitus, pure tone audiometer
Abstract
Background: Sensorineural hearing loss are common neurological deficit, and diabetes mellitus is a common cause for these problems. Hearing impairment affects the quality of life of diabetic patients. Many researchers found hearing impairment in diabetic patients because diabetes mellitus can cause sensorineural hearing loss (SNHL) because of neuropathy and microvascular complications of diabetes mellitus.
Aim of the study: The study aims to sensorineural hearing loss in diabetic patients compared with non-diabetic control.
Patients and methods: A prospective case control study is performed during the period between Jan 2018 and May 2019. This case series study included 100 known cases of diabetes mellitus, their ages were between 20-60 years, treated at Al-wafaa center, which is specialized center for treatment and follow up of diabetic patients, and Al-Jumhory Teaching Hospital in Mosul. The control group included 100 individuals who did not have any diabetes mellitus or any of the exclusion criteria mentioned in the study.
Results: It has been found that sensorineural hearing loss (SNHL) was more common in diabetic patients group than controls group, 21% versus 8%. The prevalence of (SNHL) was more in male 31.7% than female diabetic patients 13.5%. Hearing threshold in diabetic patients was higher than that in control group. The hearing loss in diabetic patients is slowly progressive and directly related to the duration of diabetes.
Conclusions: Sensorineural hearing loss has been found to be more common in diabetic patients than in control group, and the hearing loss in diabetic patients is slowly progressive. The hearing threshold in diabetic patients had a direct correlation with the duration of disease.
Downloads
Download data is not yet available.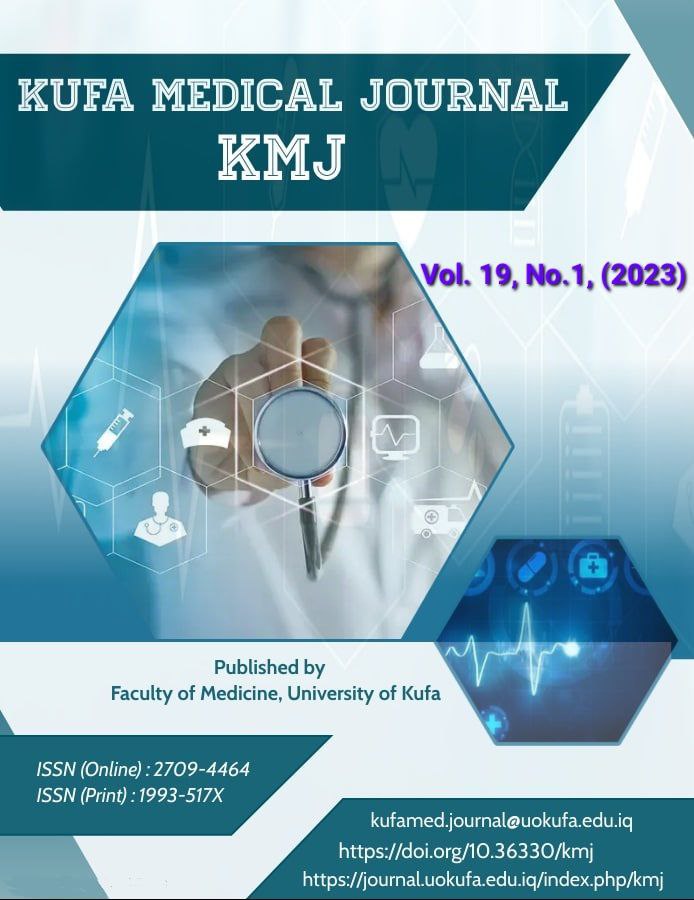 Downloads
How to Cite
alhamadani, A. A. J., alrawy, G. M. A., alhankawi, A. S. A., & almoula, samet. (2023). Sensorineural Hearing Loss in Diabetes Mellitus. Kufa Medical Journal, 19(1), 18–24. https://doi.org/10.36330/kmj.v19i1.11076
Section
Original Articles
License
Copyright (c) 2023 samet almoula, Anmar Abdullah Jassim alhamadani, Ghassan Mohammad Ahmed alrawy, Ahmed Saadallah Ahmed alhankawi
This work is licensed under a Creative Commons Attribution 4.0 International License.
which allows users to copy, create extracts, abstracts, and new works from the Article, alter and revise the Article, and make commercial use of the Article (including reuse and/or resale of the Article by commercial entities), provided the user gives appropriate credit (with a link to the formal publication through the relevant DOI), provides a link to the license, indicates if changes were made and the licensor is not represented as endorsing the use made of the work. The authors hold the copyright for their published work on the KMJ website, given that KMJ is responsible to appreciate citation for their work, which is released under CC-BY-4.0 enabling the unrestricted use, distribution, and reproduction of an article in any medium, provided that the original work is properly cited.