An Alarming Evidence Of Increased HPV Infection In Cervical Smear In Iraqi Patients
Abstract
Background: Cervical cancer is one of the common cancers among women worldwide, with increasing incidence. This study was designed to assess the role of cervical cytology in detecting the various cervical lesions predisposed to cervical cancer with the special emphasis on squamous intraepithelial lesions (SIL) and to predict the prevalence of these lesions and their association with Human papilloma virus (HPV). Patients and methods: This study enrolled 3500 women aged 17 years and above, presented with cervical lesions and attended for cytological evaluation of cervical smears. The data was retrieved from the archives of these patients for the period from January 2017 to December 2021.  All results were classified according to Bethesda system (2014) and statistically analyzed. Results:  the cytological examinations revealed that 91.7% of the submitted cases were negative for intraepithelial lesion or malignancy (NILM). Abnormal cellular changes were reported in 8.3% of the cases; Low-grade squamous intraepithelial lesion was the most common abnormality representing 4.7%, while High-grade squamous intraepithelial lesion constituted 0.5% of the total cases. A HPV-DNA test was done to 220 cases; 52 cases (23.6%) were positive, most of them (73%) were of low-risk genotypes while high risk genotypes were reported in 27% of the cases. Conclusion: the cervical squamous abnormality has formed a low prevalence rate while HPV-DNA test has been detected in a considerable proportion of Iraqi patients. This fact discloses alarming evidence of a growing problem in the population that needs to introduce a screening program for early diagnosis of precancerous cervical lesions.
Downloads
Download data is not yet available.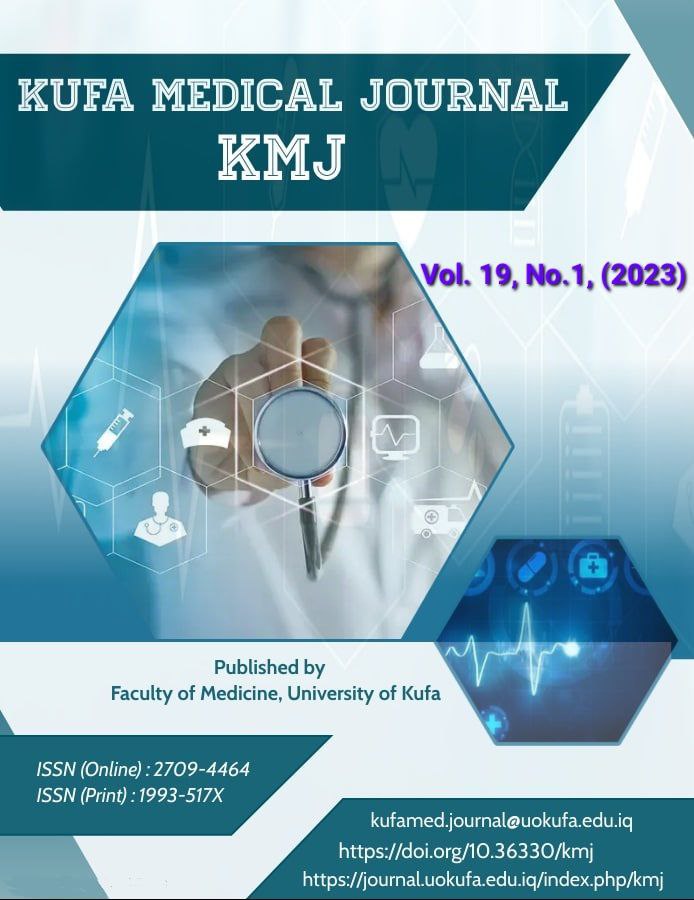 Downloads
How to Cite
Samari, Z. J., Alibraheemi , N., Al-Quzweni , A., Al- Janabi, A., & Jumaah, A. S. (2023). An Alarming Evidence Of Increased HPV Infection In Cervical Smear In Iraqi Patients. Kufa Medical Journal, 19(1), 25–32. https://doi.org/10.36330/kmj.v19i1.11146
Section
Original Articles
License
Copyright (c) 2023 Alaa Salah Jumaah, Zahraa Jabbar Samari, Nada Alibraheemi , Aseel Al-Quzweni , Asaad Al- Janabi
This work is licensed under a Creative Commons Attribution 4.0 International License.
which allows users to copy, create extracts, abstracts, and new works from the Article, alter and revise the Article, and make commercial use of the Article (including reuse and/or resale of the Article by commercial entities), provided the user gives appropriate credit (with a link to the formal publication through the relevant DOI), provides a link to the license, indicates if changes were made and the licensor is not represented as endorsing the use made of the work. The authors hold the copyright for their published work on the KMJ website, given that KMJ is responsible to appreciate citation for their work, which is released under CC-BY-4.0 enabling the unrestricted use, distribution, and reproduction of an article in any medium, provided that the original work is properly cited.