Pityriasis Lichenoides; A Case Series With Clinical And Histological Evaluation In A Sample Of Sixteen Iraqi Patients In Najaf
.
Keywords:
Pityriasis Lichenoides, PLEVA, PLC
Abstract
Background: Pityriasis lichenoides is an uncommon papulosquamous disorder of an unknown etiology. The clinical spectrum consists of an acute ulcerative variant, pityriasis lichenoides et varioliformis acuta (PLEVA), and a chronic, non-ulcerative variant, pityriasis lichenoides chronica (PLC). A third, much more rare and aggressive form, febrile ulceronecrotic Mucha–Habermann disease (FUMHD), also occurs. Pityriasis Lichenoides is often benign, with a chronic course and with eventual spontaneous resolution over months to years. Objectives: The current study aims to evaluate the pityriasis lichenoides among patients attending Al-Sader medical city, Najaf, in the last five years, clinically and histologically. Patients and method: This is a case series performed retrospectively over the period from January 2017 through November 2021, in Najaf. Sixteen patients with clinical and histological PL were evaluated according to their medical records and online archives. A histopathological revision of their paraffin-embedded sections was also performed and statistically analyzed. Results: Sixteen patients with pityriasis lichenoides were evaluated; PLC was more common than PLEVA (14:2). PL mainly affects people in the second decade of life (37.5%). The age at the time of diagnosis ranged from 5 to 41 years, with a mean ±SD of 20.1± 9.9 years, which was higher for PLC (21.4±9.7) years than for PLEVA (11±7) years. Females outnumber males in PLC (9:5) as the only two reported cases of PLEVA were males. The skin phototype III was double that of type IV (11:5). More urban patients than rural patients were presented. The cases peak was in 2020 (31.25%), followed by 2021 (18.75). However, the clinical and histopathological features were classic and comparable to the published literature. Conclusion:  PL is a disease predominant among young adults; more females were affected by PLC, while males were predominantly affected by PLEVA. More patients, who were more urban than rural, with skin phototype III were affected.
Downloads
Download data is not yet available.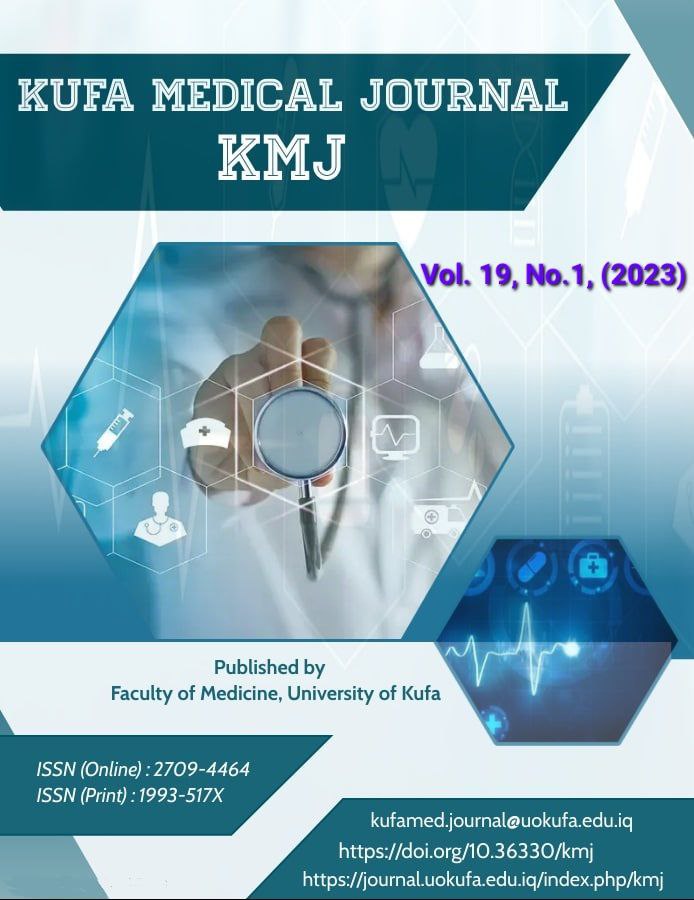 Downloads
How to Cite
Aldhalimi, D. M., & Alsalihi, M. (2023). Pityriasis Lichenoides; A Case Series With Clinical And Histological Evaluation In A Sample Of Sixteen Iraqi Patients In Najaf: . Kufa Medical Journal, 19(1), 33–44. https://doi.org/10.36330/kmj.v19i1.11172
Section
Original Articles
License
Copyright (c) 2023 Mais Alsalihi, Dr. Muhsin Aldhalimi
This work is licensed under a Creative Commons Attribution 4.0 International License.
which allows users to copy, create extracts, abstracts, and new works from the Article, alter and revise the Article, and make commercial use of the Article (including reuse and/or resale of the Article by commercial entities), provided the user gives appropriate credit (with a link to the formal publication through the relevant DOI), provides a link to the license, indicates if changes were made and the licensor is not represented as endorsing the use made of the work. The authors hold the copyright for their published work on the KMJ website, given that KMJ is responsible to appreciate citation for their work, which is released under CC-BY-4.0 enabling the unrestricted use, distribution, and reproduction of an article in any medium, provided that the original work is properly cited.