Assessment Of Bone Minerals Density Among Vitamin D Deficient Hypertensive Patients
Keywords:
ALP, Bone, Calcium, Hypertension, Phosphate, Magnesium, Vitamin D
Abstract
Background: One of the main risk factors for cardiovascular illnesses and a widespread health issue, is hypertension which can result in improper calcium metabolism. Vitamin D may lessen the prevalence of hypertension as it has been suggested that rickets and osteomalacia are frequently brought on by vitamin D insufficiency. Objective: the present study aims to assess bone minerals density in hypertensive patients with vitamin D deficiency. Materials and Methods:  this is a cross-sectional study conducted in April through June of 2019. Eighty-eight hypertension patients were included in the study, 46 men and 42 women, and they were divided into two groups depending on their vitamin D results: normal, >20 ng/ml, and case, 20 ng/ml. The data were analyzed by using SPSS version20. Serum vitamin D level was determined by using an ELISA competitive assay, serum ALP and Mg level was determined by using spectrophotometric methods, and serum Ca and Ph level was determined by using dye colorimetric methods. Results: Females, overweight subjects and more than 5 years patients showed a decrease in vitamin D level, with P-values (0.000, 0.003 and 0.041) respectively. The mean serum level of ALP and Mg were significantly increased in overweight group (P-values 0.048 and 0.041). The mean serum levels of ALP, Ca, Ph and Mg showed insignificant differences in the study group classified based on gender P-values (0.844, 0.546, 0.173 and 0.716) respectively. Patients with long history of disease (> 5 years) have significant increase in Ca levels p-value (0.019). Conclusion Patients with obesity have lower vitamin D levels, while having higher levels of ALP and Mg. Patients with long histories of disease (> 5 years) have higher levels of Ca. Females are more susceptible to vitamin D deficiency. There is no discernible difference in serum ALP, calcium, phosphate, or magnesium between hypertensive patients with normal or lower of levels vitamin D.
Downloads
Download data is not yet available.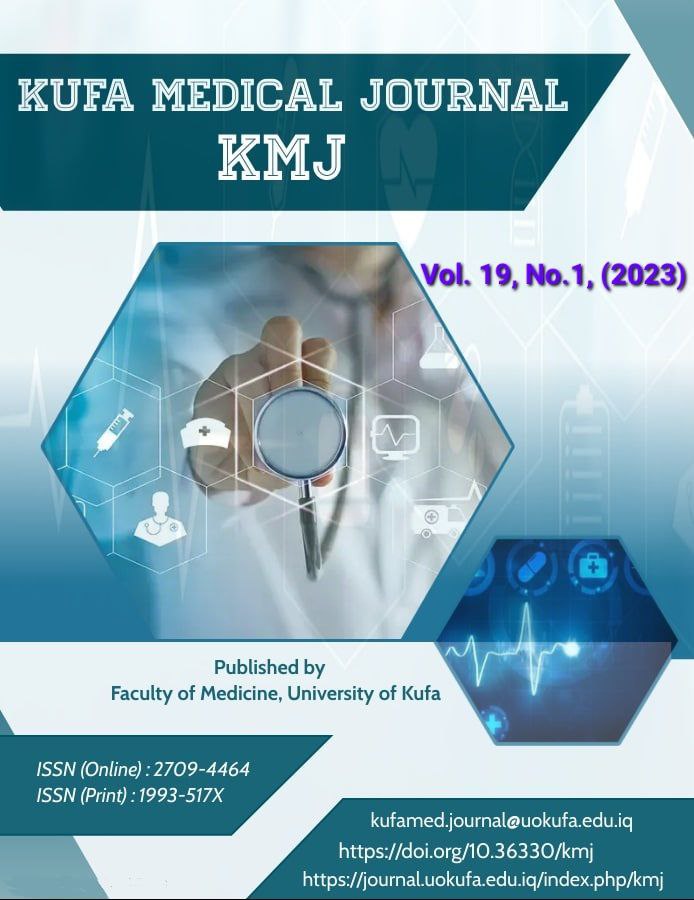 Downloads
How to Cite
Rabie Alagib Abdallah, Mohamed Abdelrhaman Altahir, Reem Tajelsir Ali, Amar Mohamed Ismail, Abuagla M. Dafalla, Hani M. Abdalla, & Modawe, G. (2023). Assessment Of Bone Minerals Density Among Vitamin D Deficient Hypertensive Patients. Kufa Medical Journal, 19(1), 45–50. https://doi.org/10.36330/kmj.v19i1.11356
Section
Original Articles
License
Copyright (c) 2023 GadAllah Modawe
This work is licensed under a Creative Commons Attribution 4.0 International License.
which allows users to copy, create extracts, abstracts, and new works from the Article, alter and revise the Article, and make commercial use of the Article (including reuse and/or resale of the Article by commercial entities), provided the user gives appropriate credit (with a link to the formal publication through the relevant DOI), provides a link to the license, indicates if changes were made and the licensor is not represented as endorsing the use made of the work. The authors hold the copyright for their published work on the KMJ website, given that KMJ is responsible to appreciate citation for their work, which is released under CC-BY-4.0 enabling the unrestricted use, distribution, and reproduction of an article in any medium, provided that the original work is properly cited.