Total Testosterone Or Ultrasonographic Findings As a predictor For PCOS
Keywords:
Ferriman-Gallwey, Hirsutism, Menstruation, Transvaginal Sonography
Abstract
Background: Hirsutism is an annoying change that brings many women to gynecology and dermatology clinics; it can also indicate important events such as serious hormonal problems or malignancies. As a result of genetic changes, a percentage of these people show this finding in a benign and uncomplicated way, but some of them are also associated with ovarian problems such as excessive testosterone secretion. this was the main theory of the current study, where women with normal periods and oligomenoric hirsutism were examined in terms of the relationship between hirsutism and total testosterone laboratory parameters and ultrasound findings. Materials and methods: 93 women with hirsutism, their average age was 32.6 years and none of them were more than 45 years old or less than 15 years old, were included in this study. 60% of them had regular menstruation and 40% had irregular menstruation. None of the subjects had received drug therapy and had no reports of conditions of hypothyroidism, hyperprolactinemia, or breastfeeding. Results: The data was analyzed by using SPSS-22 software and the results showed that the average testosterone level difference between both groups was significant. (0.8575 vs. 1.5276) (P=0.000). Ultrasound findings in the group with hirsutism and irregular menstruation were significant in terms of the number of follicles between 2 and 5 mm (P=0.03). Conclusions: According to the results, it can be said that the Freeman-Galloway scoring system can be used as a predictor in some women with hirsutism.
Downloads
Download data is not yet available.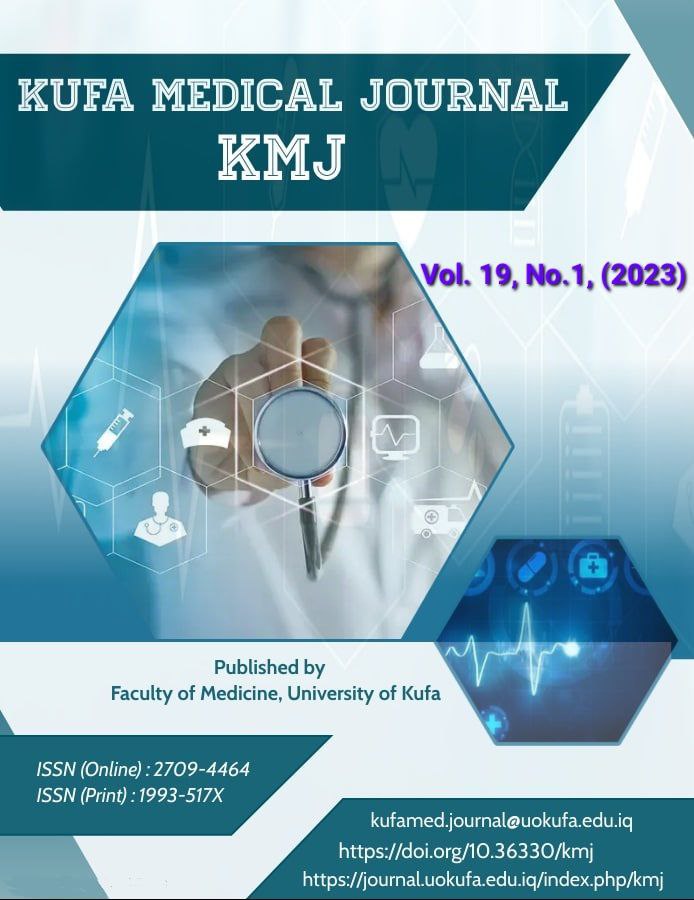 Downloads
How to Cite
Ezat Hajmollarezaei. (2023). Total Testosterone Or Ultrasonographic Findings As a predictor For PCOS. Kufa Medical Journal, 19(1), 51–58. https://doi.org/10.36330/kmj.v19i1.11970
Section
Original Articles
License
Copyright (c) 2023 Ezat Hajmollarezaei
This work is licensed under a Creative Commons Attribution 4.0 International License.
which allows users to copy, create extracts, abstracts, and new works from the Article, alter and revise the Article, and make commercial use of the Article (including reuse and/or resale of the Article by commercial entities), provided the user gives appropriate credit (with a link to the formal publication through the relevant DOI), provides a link to the license, indicates if changes were made and the licensor is not represented as endorsing the use made of the work. The authors hold the copyright for their published work on the KMJ website, given that KMJ is responsible to appreciate citation for their work, which is released under CC-BY-4.0 enabling the unrestricted use, distribution, and reproduction of an article in any medium, provided that the original work is properly cited.