Polycystic Ovarian Syndrome In Some Sample Of Iraqi Adolescents: Implementation Of Consensus Guidelines
Keywords:
Adolescents, Diagnosis Guidelines, Hirsutism, Obesity, PCOS, Testosterone
Abstract
Background: The diagnosis of polycystic ovarian syndrome (PCOS) in adolescent girls can be difficult because symptoms are shared with normal pubertal development. The updated consensus guideline for PCOS diagnosis in adolescents sought to encourage accurate and timely diagnosis, optimize therapy, and improve health outcomes.
Aim: the present study aims to implement an updated consensus criteria in the diagnosis of PCOS in adolescents complaining of clinical features of hyperandrogenism or menstrual abnormalities.
Methods: A total of 60 patients with clinical features of hyperandrogenism and/or menstrual abnormalities were studied. A detailed history followed by clinical examination was taken. Serum Thyroid Stimulating Hormone, Cortisol, Total Testosterone, Dehydroepiandrosterone, Luteinizing Hormone (LH), and Prolactin were performed for all patients. Consensus criteria were used for PCOS diagnosis.
Results: Menstrual irregularity was reported by 20 (33.3%) and hyperandrogenism features in 21(35%) of the participants. PCOS was confirmed in 14 (23%) participants. Patients diagnosed with PCOS were shown to have substantially higher rates of menstrual irregularity, hirsutism, elevated serum testosterone, and LH (P0.001, P0.001, P=0.002, and P0.002 respectively). Seven patients (50%) had both clinical and biochemical hyperandrogenism. Association between testosterone rise was more significant with hirsutism (P<0.001) than with acne (P=0.001).  Morbid obesity was observed in 21% of patients, 7% had their diastolic blood pressure 90mm Hg, and 39% had and fasting blood sugar ≥100 mg/dL.
Conclusion: PCOS was diagnosed in 23% of adolescent girls who had features of hyperandrogenism and menstrual irregularities.  Obesity and family history were more frequent in PCOS adolescents. Concordant clinical and biochemical hyperandrogenism was confirmed in only half of PCOS patients. PCOS patients may be at higher risk of metabolic syndrome.
Downloads
Download data is not yet available.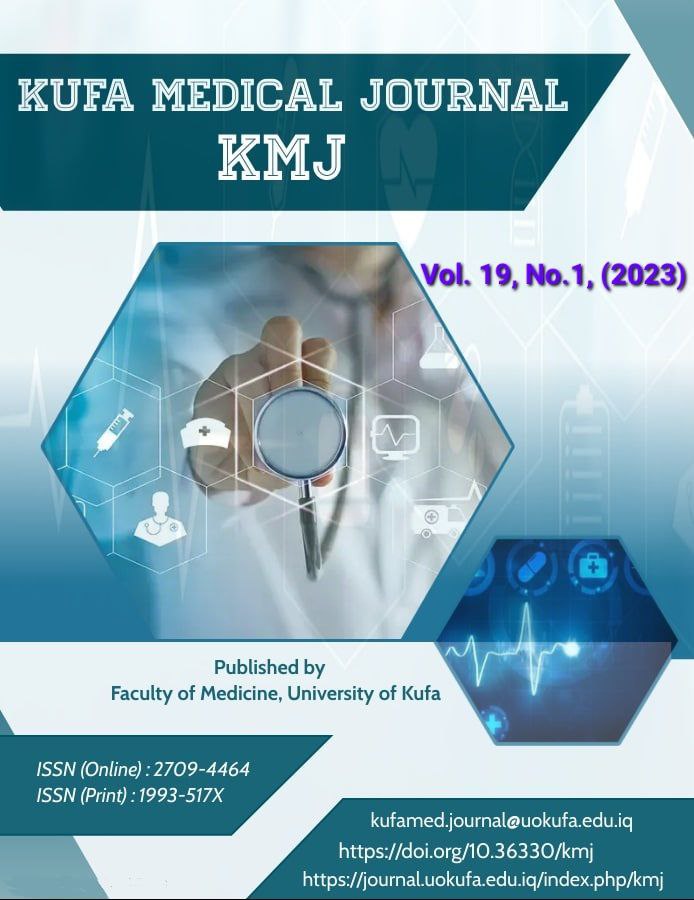 Downloads
How to Cite
Khazaal Abid Jabok, S., & Abdulhor Al Ibrahimi, N. (2023). Polycystic Ovarian Syndrome In Some Sample Of Iraqi Adolescents: Implementation Of Consensus Guidelines. Kufa Medical Journal, 19(1), 7–17. https://doi.org/10.36330/kmj.v19i1.10653
Section
Original Articles
License
Copyright (c) 2023 shymaa Khazaal Abid Jabok, Nada Abdulhor Al Ibrahimi
This work is licensed under a Creative Commons Attribution 4.0 International License.
which allows users to copy, create extracts, abstracts, and new works from the Article, alter and revise the Article, and make commercial use of the Article (including reuse and/or resale of the Article by commercial entities), provided the user gives appropriate credit (with a link to the formal publication through the relevant DOI), provides a link to the license, indicates if changes were made and the licensor is not represented as endorsing the use made of the work. The authors hold the copyright for their published work on the KMJ website, given that KMJ is responsible to appreciate citation for their work, which is released under CC-BY-4.0 enabling the unrestricted use, distribution, and reproduction of an article in any medium, provided that the original work is properly cited.