Evaluation of Inhaler Technique In COPD And Asthma Patients
Keywords:
Asthma, COPD, Inhaler, Technique
Abstract
Background: Asthma and COPD remain poorly controlled diseases that significantly affect the quality of life of patients. Inhalers are the main therapeutic options. Poor inhaler technique is a major factor that leads to poor clinical consequences, affecting the effectiveness of treatment and further control of symptoms. Aim of the Study: the present study aims at evaluating the inhaler technique and its clinical consequence in COPD and asthma patients .Patients and Methods: This is a cross sectional study of 70 patients, 35 with COPD and 35 with Asthma, who are already on inhaler drugs in their treatment. The use of inhaler was evaluated by a checklist that contains seven steps of inhaler use; by asking the patients to use their inhalers as usual, the correct or incorrect steps were recorded. The result of each patient checklist was correlated with the patient demographic parameters and level of control of his disease (COPD or asthma) by using COPD assessment test (CAT) or asthma control test (ACT) respectively. The Results: A total of 70 patients were enrolled in this study; 35 had COPD and 35 were asthmatic. The COPD patients were significantly older than asthmatic, mean age was 65.5 ± 5.8 (range: 55 – 75) years and 36.4 ± 13.9 (range: 16 – 65) years, respectively. (P. value < 0.05).  Males were dominant among COPD patients than asthmatic group; they contribute to 80% and 45.7%, respectively,(P. value < 0.05). The level of education was not significantly different between the groups (P > 0.05). Current smokers were significantly more frequent in COPD group than in asthmatic group, 40% vs. 14.3%, respectively.  The duration of inhaler use was significantly longer in asthmatics than in the COPD group members; the mean duration of use was 5.2 ± 4.5 (range: 1 – 20) years in asthmatic compared to 2.4 ± 1.1 (range: 1 – 6) years in COPD group. Dry powder inhalers (DPI) were relatively more frequently used than metered dose inhalers (MDI) where DPI used by 51.4% and 54.3% in COPD and asthmatic group, respectively. The level of education of patients and longer duration of inhaler use correlate positively with good technique, while no significant correlation with other variables. Conclusion: A large proportion of the participants had a poor inhaler technique regardless of the type of disease and of inhaler (DPI or MDI). There was a positive correlation between proper use of inhaler and high educational level of patients and longer duration of use.
Downloads
Download data is not yet available.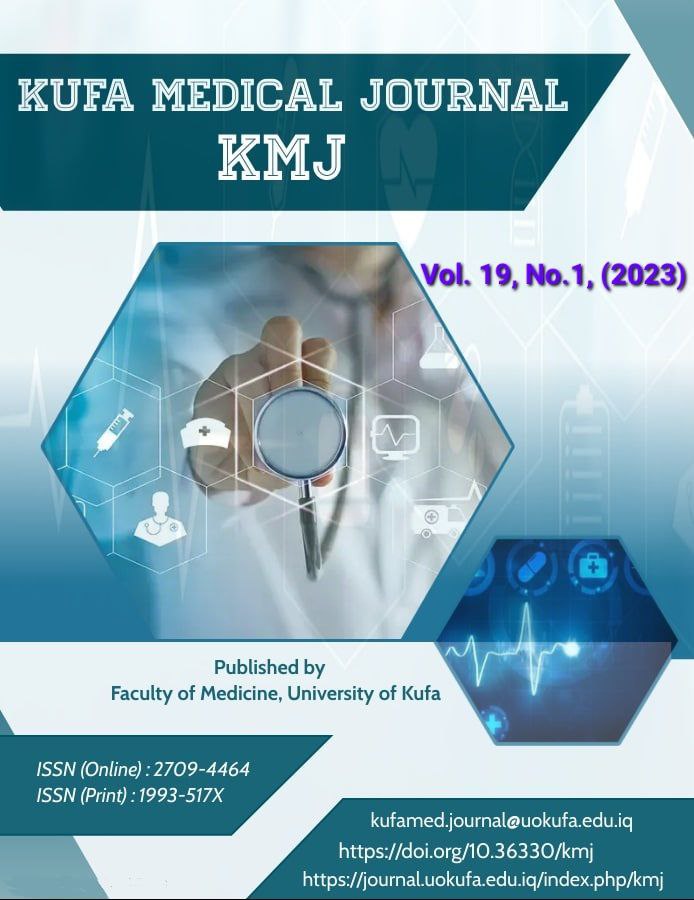 Downloads
Additional Files
How to Cite
Mohammed Hussein Abdulredha, Haydar Jawad Aljobouri, & Dhamin Alareedh, M. (2023). Evaluation of Inhaler Technique In COPD And Asthma Patients . Kufa Medical Journal, 19(1), 59–75. https://doi.org/10.36330/kmj.v19i1.12014
Section
Original Articles
License
Copyright (c) 2023 Mohammed Dhamin Alareedh
This work is licensed under a Creative Commons Attribution 4.0 International License.
which allows users to copy, create extracts, abstracts, and new works from the Article, alter and revise the Article, and make commercial use of the Article (including reuse and/or resale of the Article by commercial entities), provided the user gives appropriate credit (with a link to the formal publication through the relevant DOI), provides a link to the license, indicates if changes were made and the licensor is not represented as endorsing the use made of the work. The authors hold the copyright for their published work on the KMJ website, given that KMJ is responsible to appreciate citation for their work, which is released under CC-BY-4.0 enabling the unrestricted use, distribution, and reproduction of an article in any medium, provided that the original work is properly cited.