The Impact Of Hepatitis B Infection On The Development Of Anti-Cardiolipin Antibodies In Najaf Province
Keywords:
HBV, ACL, Najaf, Cross-Sectional, ELISA
Abstract
Background: Hepatitis B Virus (HBV) is a partly double-stranded, hepatotropic, non-cytotoxic Hepadnaviridae virus. HBV is linked to many autoimmune diseases, including Rheumatoid Arthritis(RA), Cryoglobulinemia, and Antiphospholipid Syndrome(APS). Anticardiolipin antibodies (ACL) are a type of anti-phospholipid antibodies(APA) that target cardiolipin molecules. They're more common in systemic lupus erythematosus (SLE) and APS. APA may be caused by viral infections such as HBV. Aim of the study: Determination of Anticardiolipin antibody positivity among hepatitis B virus-infected patients in Najaf governorate. material, and methods: a cross-sectional study was conducted between September 2022 to March 2023 in Najaf, a non-random sampling was depended, the sera of 113 HBV-infected patients were collected from the main health facilities in Najaf, and all had no other possible disease that is associated with APA, then it was tested for HBS antigen, total HBc antibodies, IgM HBc antibodies, ACL antibodies by ELISA technique. SPSS version 26 was used to perform the statistical analysis processes. Results: anti-cardiolipin antibodies(ACL) prevalence was 10.6%, The type of HBV infection and ACL production were significantly correlated (p<0.05), males had a higher percentage of ACL autoantibodies and middle age patients presented with the highest rate of ACL antibodies, however, there was no statistically significant relationship between ACL and age or gender.  In Conclusion: hepatitis B virus (HBV) is one of the main viruses that lead to the production of ACL especially in middle-aged people males, the chronic type is more prevalent for ACL than the acute type.
Downloads
Download data is not yet available.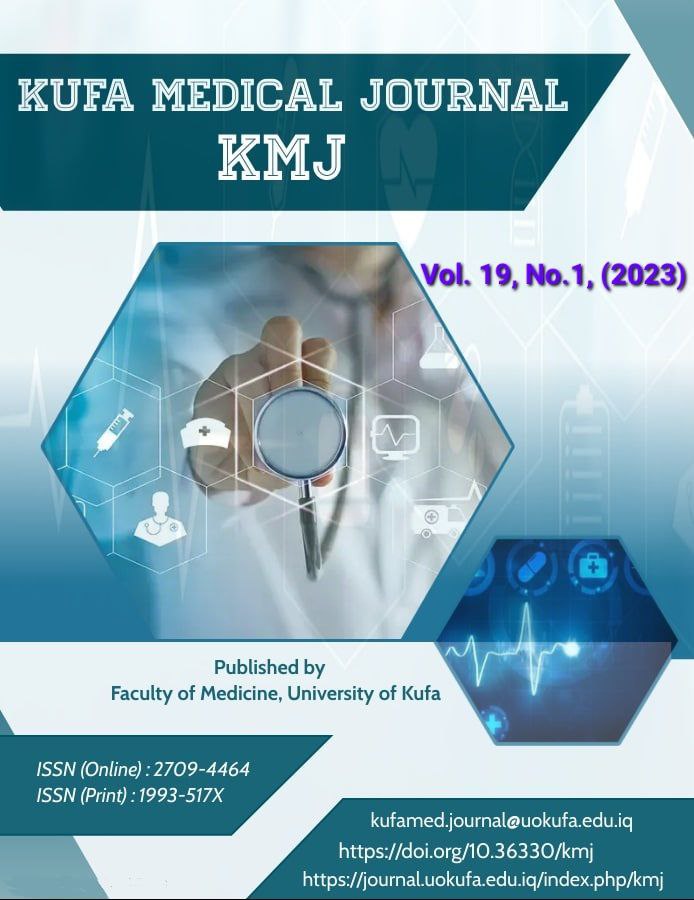 Downloads
How to Cite
Ameer Mohammed Kadhim, Hawraa Ameer Mubark, Dhefaf Hameed Al-Mudhafar, & Saif Jabbar Yasir. (2023). The Impact Of Hepatitis B Infection On The Development Of Anti-Cardiolipin Antibodies In Najaf Province. Kufa Medical Journal, 19(1), 95–102. https://doi.org/10.36330/kmj.v19i1.12180
Section
Original Articles
License
Copyright (c) 2023 AMEER ALESSAWI
This work is licensed under a Creative Commons Attribution 4.0 International License.
which allows users to copy, create extracts, abstracts, and new works from the Article, alter and revise the Article, and make commercial use of the Article (including reuse and/or resale of the Article by commercial entities), provided the user gives appropriate credit (with a link to the formal publication through the relevant DOI), provides a link to the license, indicates if changes were made and the licensor is not represented as endorsing the use made of the work. The authors hold the copyright for their published work on the KMJ website, given that KMJ is responsible to appreciate citation for their work, which is released under CC-BY-4.0 enabling the unrestricted use, distribution, and reproduction of an article in any medium, provided that the original work is properly cited.